Want to have an eco-friendly business? Having an eco-friendly website is one important step that is often forgotten but can have a big impact.
There is a lot to think about when it comes to having an eco-friendly business. You have to think about how much energy are using, materials used in products, setting up recycling, and so much more.
One thing you may not have thought about is your website. However, websites have a carbon footprint and it's a big one. Each web hosting server produces around 1390 pounds of CO2 each year.
"At current estimates, the airline industry contributes to 3.5% of global climate change. By 2050 the airline industry is expected to contribute to over 5% of global climate change. Information technology is expanding far more rapidly and should exceed 3.5% of global climate change by 2020 and most likely shall contribute 5% of global climate change far before 2050." –source
These stats make it easy to see that you need to make good choices when designing your eco-friendly website. It's also important to consider green hosting when you are starting a blog. Self-hosted blogs use the same energy as well.
How to Start an Eco-Friendly Website
The first step when creating a website is choosing a host. There are many options out there but if you are wanting to reduce your business's carbon footprint you need to choose carefully.
There are a few options out there for eco-friendly web hosting but the one that Green Oklahoma went with is GreenGeeks.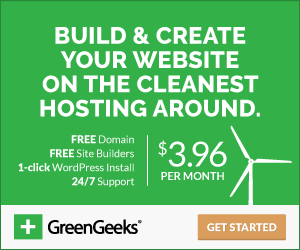 GreenGeeks is a recognized EPA Green Power Partner. They work with environmental foundations to purchase wind energy credits to put clean energy back into the grid at three times the amount of the energy they use.
It's easy to get started with GreenGeeks and affordable as well. GreenGeeks will even give you a free domain name.
Steps for setting up your eco-friendly web hosting-
Pick your free domain name. (If you already have a domain choose that option)
Enter your information.
Choose your hosting plan.
Enter your payment information and submit.
Once you have your hosting set up you just need to design your website or start a blog. Be sure to let your customers know that you use green hosting with one of GreenGeeks badges.
Having an eco-friendly website can help set your business apart from others. It's also something you can feel good about and once it's set up you never have to think about it again!
Another easy step to green your business is setting up recycling in your office. Be sure to check out our tips.
SaveSave
The following two tabs change content below.
Lisa Sharp is the founder of Green Oklahoma. She is passionate about the environment and improving Oklahoma for future generations. She also writes on her personal blog Retro Housewife Goes Green.
Latest posts by Lisa Sharp (see all)